What, and when you eat can have a crucial impact of your performance in you workout, be it an endurance workout or strength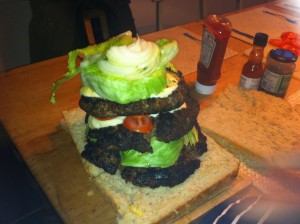 session. I hope today I can give you a good indication of some of the types of food you should be eating before a workout.
What to eat before a workout – Energy Source
Whether it be aerobic or anaerobic exercise your body is going to need to burn either fats or carbohydrates in order to have sufficient energy. As a rule of thumb you should be consuming a little bit of both before a workout. If you are going on a long run for instance, it is likely that you will have an average heartrate around 70% of your max. This is borderline above the 'fat burning zone', this is when fat can be broken down at a fast enough rate to supply you with energy.
If you are about to go to the gym and do a heavy weight routine, during the exercise your heart rate will be high and most of the exercise will be anaerobic. At this point you can't burn fat to gain energy you will only be using carbohydrates. Then in between exercises during rest your body will be able to burn some fat. What is more important if you are building muscle is to make sure along with taking in carbohydrate and fat is that you consume enough protein. More on that later in the post.
So in summary before both aerobic and anaerobic exercise you need some carbohydrates, simple and complex and some fats.
What to eat before a workout – When to eat
If you scoff down a 1000 calorie meal 20 minutes before going to the gym, you will effectively waste a lot of the nutrients you just put in your body. As soon as you hit the gym you are going to put your body in a catabolic state, in other words it's not going to want to digest food.
In order to have the most energy and take advantage of all the meals you need to consume a day to build muscle you should be going to the gym 1 to 1 and a half hours after eating.
If you are doing a more aerobic based exercise such as running or swimming then you should be eating between 1.5-2 hours before work a workout.
So then what to eat before a workout:
If you are going to the gym then the simplest way to list this is as ratios in your pre workout meal. I have meal examples on here in the nutrition section you might want to check out if your are stuck.
35% of your meal should be protein coming to around 40g
50% of your meal should be carbohydrates mostly complex
15% of your meal should be fats
Eat vegetables as well as their calorie count is pretty much negligible.
If you are doing aerobic exercise and have no intention of building big muscles then your meals should be looking more like this.
65% carbohydrate
15-20%protein
15-20% fats (minimal saturated)
What to eat before a workout: supplements
Note: This mainly applies to people looking to build muscle. I'm sure you will have seen the adverts somewhere of some 'blitz, mega, ultra' pre workout drink that will give you an amazing pump. These are good but are not the most important supplements you should be taking before a workout.
Much more important supplements are the branched chain amino acids. These are the basic building blocks of muscle, and you should consume 5g of them before a workout. As far as I am aware all BCAA's come in the ratio 2:1:1 (L-leucine:L-isoleucine:L-Valine).
Another vital supplement is glutamine, it's an essential amino acid and is the building blocks of all muscles. These two supplements are really cheap leaving you with no excuse not to take them.
I'll do a quick overview of the hype shakes. I personally do use them during one of my daily workout sessions. They contain a large amount of caffeine which you can taste on your tongue and does affects you exactly like you expect it would. However it's the nitrates and the beta alanine which are the more important ones. These help vasodilation,open up blood vessels and draw blood to the muscles, which will make you feel and look pumped. They are great if you really want to take your workouts to the next level but they do cost a bit more and I don't see the need of them for a beginner.
I hope this helped you get a feel of what to eat before a workout.
Keep on lifting.