O
ptimum
nutrition
pride themselves on creating some of the finest quality
protein shakes
on the market and when other manufacturers avoided talking about reports that protein shakes contain dangerous metals they stepped up and showed results showing their protein were rid of any. (Full report can be found
here
)
Their bestselling protein is the 100% gold standard whey double chocolate and I'm going to review the taste, texture, mixability and performance as well as some miscellaneous facts about the shakes.
Gold Standard Whey Protein Review – Ingredients 
Before you buy any protein shake you should know exactly what you need and what constitutes a great protein shake.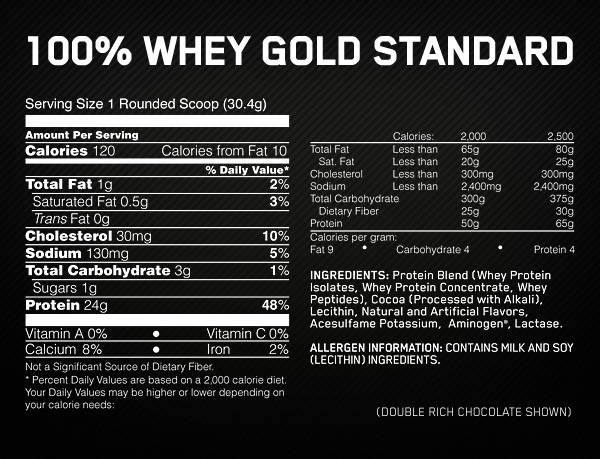 Above is a breakdown of what's in the shake. First of all you want to make sure what you are actually buying is whey protein and a good way to ensure this is to calculate the amount of protein in the protein shake. For instance per scoop there is 24g of protein (30.4/100)*24=79% of the serving is an active protein. As a standard I would say your shake should contain a minimum 75% protein. The remaining percentage is made up of fat's carbs and some roughage but is so low to really be taken into consideration.
Optimum 100% Gold Standard Whey Taste
This is a taste test for the double chocolate flavour which is very popular. I like to make sure that a shake isn't too sickly as having 2-3 a day needs to be effortless. It's not an intense taste by any means and when diluted with water 1 scoop in 400-500ml doesn't add a lot of taste but the texture make up for this. An overall score for the taste is 8.5/10.
Texture
There is nothing worse than drinking a drink that is full of lumps that stick to the back of your throat. There is also nothing worse than having to shake the damn thing for 10 minutes on order for it to dissolve. This isn't the case when it comes to 100% gold standard whey. It's incredibly smooth and it's not a thick drink.
Mix-ability
Optimum have nailed the ability to make their protein shakes dissolve seamless into water as well as milk. The biggest surprise is it's ability to blend in with milk. Often when you try and mix a protein shake in milk you get lumps of protein forming.
Results and Miscellaneous features
One important factor I like to take into consideration is any affect to complexion a protein shake has. I've sampled protein shakes that can give you really bad acne and nobody want's that when they are trying to show off their aesthetics! So if you are an adolescent and suffer from bad skin you can rest assured that this will not make it any worse. The results of the protein shake are as you would expect. With a well balanced diet this can really take your gains to the next level!
Gold Standard Whey Protein Review Summary
If you're looking for a protein shake with lots of science from a respectable company that tastes great and delivers excellent results then look not further than this.
Two great places to buy it are from Bodybuilding.com and Amazon.com/Amazon.co.uk
None found.
Review Overview
Summary : Optimum Nutrition 100% Gold Standard Whey is a fantastic protein shake