Living in a fast society makes us want to build muscles fast on the most easiest way. Beside building it fast, we want to do it on the right way along with great results. Gyms offer to us various programs to speed up the whole process, but at the end, what it really important is to do it on the right way, take a deep breath, and go step by step.
Here are few steps on how to do your workout correctly, and to have a great body in the same time ASAP.
STEP 1- BACK TO BASICS
It doesn't matter if you focus today on your workouts for legs or abs, you should start with the basic training workout, allowing you to lift up more weight, like for example when you do the press on the bench for your chests, the deltoids presses overhead and the rows of barbell for your legs and back.
What does this offers you?
A fresh mind and energy for a further stimulation of building and growing your muscles.
STEP 2-PUT ALL IN!
When you do a higher intensity series of workouts, it is one of the main keys to build faster a muscle. The difference when you do an easier workout a.k.a "light", they don't produce the needed conditions like the faster workout will. For three or four times weekly, do a session of one hour. Between every session, do it harder and more intense if you can. Don't pay attention if your muscles will hurt, soon you will see the difference and the muscle toning.
STEP 3- LIKE A TICKING BOMB
When you work on your muscle building, do every exercise with all of your strength and will. Instead of marking and counting how much have you done, give all of you, and do more until you ran out of time on your stopwatch.
STEP 4-THE CORRECT FORM
If you want a proper form and a good technique, all of your reps do it on the good way. If you are a beginner, do as much as your capabilities of strength are. Don't program your brain for a failure, keep it positive and just do it. What you will have to be able, is that the full exercise motion should be done without a changing your position.
STEP 5- A SECOND OPTION OF THE GROUPS OF MUSCLES
On every workout, when you built your muscles and strength, you don't want to repeat it on every workout, or to damage your muscles. When you workout, make sure that you rotate the groups of your muscle's workouts, so later you can add some intense during your exercise. If your routine is three times a week, why don't you try this plan:
*WORKOUT NUMBER ONE- Make workouts for your biceps, legs and triceps
*WORKOUT NUMBER TWO- LEGS FOCUS
*WORKOUT NUMBER THREE- Repeat the chest and abs workouts
 STEP 6- AVOID THE PLATEAUS
By repeating it all the time the same and same workouts for strength and muscle building, progress is not what you are going to make in your goal for bigger muscles. What you need actually, is to add some weight, and after to switch up on the workouts.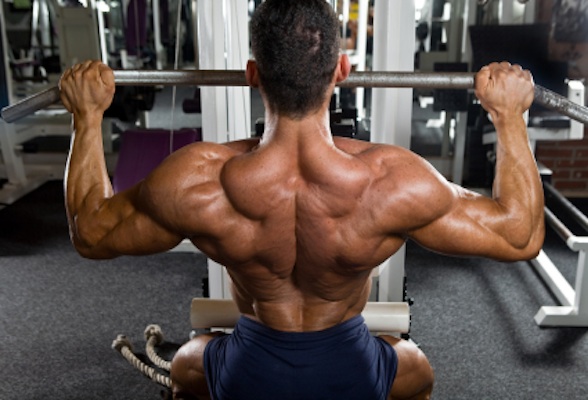 STEP 7- BETWEEN YOUR WORKOUTS, MAKE A REST
If you have a metabolism which is working fast, then to take a good nap and rest is equally important as how correctly you are doing the workouts. The body of yours will build a muscle without a need to burn many calories when you do some activities. The cardio and running will make things a lot more complicated for the muscle's growth. Relax, and have a good sleep, so when you will work out the following day, you'll be fresh and prepared for the next challenge.
 STEP 8- A MIND FOCUS
Instead to focus on your friend on how much he/she has ran, or on the hot blondie next to you, better focus on what you do and how to do it better. It is a natural law that if you focus on something, that will become reality. It is the same when you work out too, so focus on the growth of your muscles and that actually will happen. Thoughts become things.
 STEP 9- PROTEINS
Adding proteins in your food, or eating more food with protein contained, is a natural successful formula for muscle's growth. Try eggs, try whatever you like that is on the list of the protein pyramid. If you are a chocolate lover, the choice is big one. There are various chocolate bars made of proteins only. You can make your food plan best and let's do it!
STEP 10- EAT 5 MEALS
When you are in this phase named "building your muscles", don't forget to refuel your body all the time. You need energy for all of your activities, daily or workouts. Two meals for breakfast and then for lunch and dinner is enough. Fruits and vegetables are always welcomed.
STEP 11- DRINK WATER!
When you work hard, it is normal to feel thirsty soon as you begin to work out. To carry a bottle of water whenever you are, is always a good idea and option, so when you will feel thirsty, you can drink it. Before and after your workouts – drink some more water.
STEP 12- YOU CAN ALWAYS USE SUPPLY, BUT DON'T RELLY ON IT
In the fitness world, using creatine is a normal thing. This supplement, which is in a powder form, will help you in your process of building muscles. You can mix it with water and drink it.
Whether you choose one of these steps, the most important thing is to stay focused and motivated. There are plenty of ways go do it, but no matter which one you will choose, choose the most healthier and best for you.