Throughout the years, working routine has transformed from a training session for the most ambitious ones, to a very fashionable thing to do.
Life isn't perfection, neither the human body, but we all can "fix" the little things that we don't like about ourselves.
Gyms and training programs have evolved so much, that the palette of choosing an exercising program is a big one.
From Pilates and yoga, to a hard workout army session such as "Insanity ",and combative exercises, in a smooth way ,of course. There are so many options to keep you in a good shape, but a good will is also needed.
But in general, not many of us like to pay the price of beauty on the harder way- to sweat and avoid the "forbidden fruit" – food. Unfortunately, a magic wonder isn't still invented, so we have to keep ourselves motivated and do that "dirty work".
What really can make you to stay motivated through every workout routine?
Think with an open mind!
When people enter a gym, they're trying to convince themselves that results can be achieved with a speed of the light. Wrong, dear.
When you workout, think further more, give yourself a goal. For example, think how good your body will look on that sandy beach during the summer. Beside the happiness that all summer brings, a good compliment from a guy/girl will always put a smile on your face. Imagine your happy face every morning when looking at the mirror.  Priceless, don't you think?
Small sizes, doesn't fit, sorry we don't have your number, too tight, too insecure to give a shot. DARE TO WEAR, because yes, you sweated and you deserved it, so it's about time for a premiere of your new body! The formula is easy: open your mind, set yourself a goal, and you got it!
PUT YOUR MUSIC ON!
From Beyonce's "Run the world" to Eric Prydz 's amazingly motivating video "Call on me", choose a playlist of songs with a quite inspiring lyrics and catching rhythm. It will make you feel like a diva or a bad boy from the hood, plus will give you one kind of a visual presentation of what you want to look alike.
At the end, it is the moving power that will inspire you enough to run faster, work harder, so the "hard" part of the workout you won't even feel it!
The Gym a.k.a Altar!
Gym is the perfect meeting place for new contacts, making new friends and who knows…maybe a new love?
This time I won't rely on the research results, but on true stories.
Many times I have heard that he/she meets Mr./Mrs. Right on this place, the gym. Well tell me, outside the gym is the made-up world, but in the gym we're back to basic. Who knows, a question for an advice can lead you to the One.
At the end, we all want our partner to take care of himself, stay fit. Gym is the place where miracles do happen, to your body and to your soul. Grab your sneakers, grab your chance!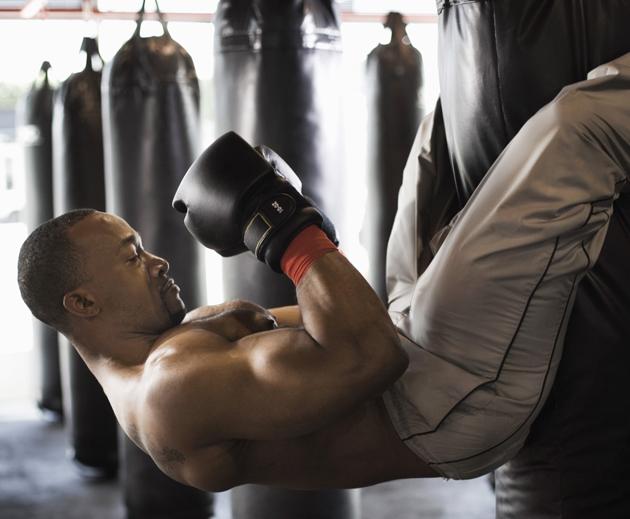 GET HIGH ON LIFE! CHOOSE THE RIGHT PROGRAM!
A healthy way of living brings quality, too. To workout, not that only will make your skin and body look younger, fresh, no matter what age you are, will make you live longer, too.
From the plenty of the training programs, choose the one that fits you and your character the best. If you're an adventurous person, for sure kick box is for you, because I've tried different programs, and the results are more obvious when you do something that you love. Pick a good one, let the construction of mind and body begins!
VISUALIZATION
The mind is a powerful machine. What you visualize, later becomes a reality . Before every session, imagine what you want to achieve, where to pay attention on, and how you would love to look like. Think where have you been before (how did you looked) and how far have you've come. Even before on the most hard session, imagine how you did it. And you will.
ASK A FRIEND FOR A COMPANY
If you're not an easy social person, ask some of your friends to come and join this beauty trip together. Most of the time, when you have a partner in crime, you feel positively competitive like for example: today I did more pushups than Ana, and instantly you will feel better, giving you confidence and strength to move on. At the end, instead of gossiping, exchange an opinion about healthy food, and new programs.
BUY A GREAT WORKOUT CLOTHES!
Neon colors, new Nike sneaker which make you feel like a barefoot, great prints of tights, personalized bottle for water, sport bra, new sporty bag, sound good right? Throw your high heels, put the sport uniform and 1,2,3 work it! Aren't you amazed by the great achievements of the sport clothing line? From ordinary red shorts to awesome choice of various pieces. There is a beauty in basic things, too. Plus, with new tights from Nike and neon shoes, for sure you can just do it. Fashion does exist here, too.
MAKE A LIST!
Make a list of how much weight you had when you started, and step by step follow your situation. From a big number to reaching the size from your dreams, not only that will make you proud of yourself, but also will give you a "gasoline" for the new race.
GIVE YOURSELF A REWARD!
One big fruit salad is a great award and vitamin bomb for that sweaty session. If you're not satisfied with this offer, reward yourself with a good sentence or few good words: you did it! You look awesome! I am happy! I love my skin! Maybe it sounds cliché, but these ordinary sentences have a big power, if not to change world, but for sure it will change your day and mood, positively .
BEFORE/AFTER
Take a picture of what you are now, put a picture of what you want to achieve. When you look that goal every day, without even realizing, but you do focus on it, and the desire is getting bigger. We were all sarcastic when we saw the BEFORE AND AFTER TRANSFORMATION in somebody. But that somebody, did something, because he/she believed andthat's why he succeed. After few months take a picture AFTER, and you will be pleasantly surprised how far you have come.
We can write a dozens of a motivation sentences, but the real motivation lies in you. You have to program your mind to a new level, and the word NO not to be in your dictionary any more. Motivate yourself for a better tomorrow, better personality, better you! Doing a sport not just that constructs your body shape, but also your life. At the end, we're all our own architects of our life and happiness.
None found.