Giving a birth to a child and making this world a better place for living with one more angel on the way, it doesn't matter if it is a boy or a girl, it is a dream come true for every woman. We can all see how celebrities work very hard in their post-birth period and have a great, fit body shape! It doesn't necessarily mean that if you are becoming a future mother, that you should not take before and after giving birth. If we look retrospectively over the past, we will see that in the previous years, all that pregnant woman had to do was to stay at home, in calm and relaxing environment, and after giving a birth to a child, she should stay at home, taking care of the family, completely forgetting about her feminine side. But, the times have changed, and the current fashion is that every new mother, should and she does take care of her body shape. Women love to feel sexy, confident and great in their own skin, despite in what age-period they are currently, so to sum up: we all can find time for ourselves, and yes we are women, we have to take care of ourselves.
For the pregnant ladies, there are plenty of fitness courses that can be attended in order to keep the balance of their body shape. Fitness guide that includes some tips and exercises is recommended for the future mommies.
When you work out during your pregnancy, maybe you will need more motivation and inspiration to do it, but the after results are worth every sweat drop. Attending any fitness classes for pregnancy, not only it will make your body shape good, but also you will sleep better, minimize the risk of a presence of depression and diabetes, reduce the pain and costive. In case you were not informed – this light workout will help you to have an easier, shorter labor.
TRY PILATES!
For the pilates lovers, try these smooth exercises which will help you to get a firm hold of your muscle in the abdominal part, making less pain in the back and you will have more energy on your delivery day, which you will need for pushing. Sometimes, these clauses could be problematic, because most of the workouts are done when you lay on your back.
KEEP CALM AND PRACTICE YOGA!
Exercising yoga could be very useful, not only during pregnancy, but also in your life too. The soft easy movements and also meditating and learning how to breathe correctly, will bring you the calm sense, who in these "hard" days you will need it.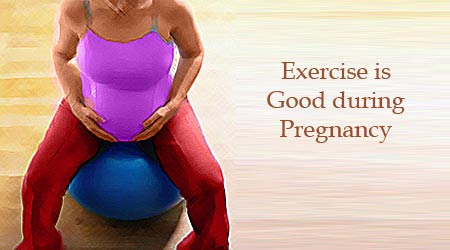 AQUA FUN!
No wonder aqua aerobics are rated in the top 3 pregnancy workouts! You can't fall or hurt yourself and you will surely feel relieved and have fun, guaranteed. In any case, don't forget to put water shoes to protect yourself from slipping away on the pool floor.
When you'll workout, don't forget to wear a lighter outfit, because when you sweat, the belly is heated and the fetus inside doesn't have an option to cool itself. And, the most important is to drink more water, keep yourself well hydrated.
Cardio
If you were active before you got pregnant, now you should stay active, too, but if you didn't, then it's about time to get active. Health experts advice that a 30 minutes walk for three days in a week are a good beginning for staying fit.
It doesn't matter which activity you will choose, pilates, yoga, cardio or something from the rest of the list, just make sure you and your baby are safe during any kind of workout. Don't forget to contact your doctor and ask him for opinion about this. At the end, the most important is to keep you and your child healthy.