Can you build muscle without weights?
If any of you have ever read Arnold schwarzenegger's book the Encyclopaedia of bodybuilding you will see he mentions how through a series of posing and tensing routines you can actually stimulate the muscle to the effect where you do damage and encourage growth. Many bodybuilders do a posing routine after their workout so that they increase their muscle density. If you have every tensed all the muscles in your body for 30 minutes you will appreciate that this is no mean feat. However in this article I am going to run through some routines you can go through in the sanctity of your own home so that you can build muscle without weights.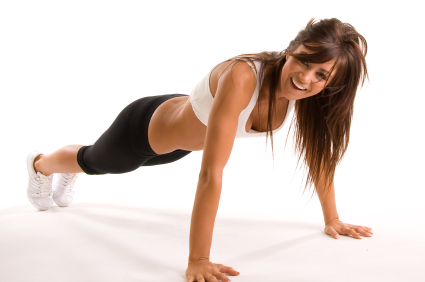 Bodyweight Exercises to build muscle without using weights
If you don't have access to weights then you are going to have to use your body as the weight. On the face of it you may think that this will limit your ability to workout your body but the reality is quite the contrary. The standard bodyweight exercise is the press up, depending on your ability you can either have your knees up like in the photo or knees down to make the movement slightly easier.
Focusing on form and contraction of the muscle is everything. Doing a motion resembling a 'nodding donkey' oil well is not going to work pectorals, front delts and triceps effectively. Also movement speed is key you shouldn't be rapidly pumping up and down, instead a controlled movement on a 1,2 count should be adopted. (2 seconds down, 2 seconds up).
The next great bodyweight exercise to build muscle without weights is the squat. Even though you don't have a barbell on  your back you can still stimulate your quads and glutes. Combined with some walking lunges to target more of your hamstring your can get a very effective leg workout. Adding a more advanced exercise such as split jump lunges will really give you an edge and building muscle and well as adding some more core stability.
Now we move on to working your core, everyone must have heard about the sit up, well that's a great place to start your core workout at home. Aim for 5 sets of as many repetitions as it takes to reach failure. The next more advanced exercise is the plank, this requires you to hold your body in a flat position while supported on your elbows, do 3 sets of holding until you hit failure each time.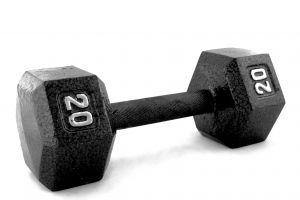 The muscle to work when you want to build muscle without weights are the biceps. A curling movement can't really be replicated by using your bodyweight. So if possible to work your entire body invest in a cheap set of dumbbells even though you are not suppose to be using weights to sculpt the guns you need them.
That pretty much sums up what you need to do build muscle without weights, check out my post on high calorie foods to ensure your getting enough out of what you are putting in your body.