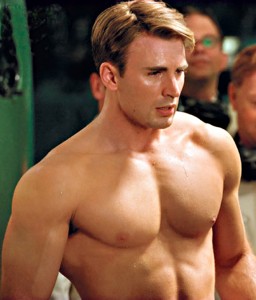 Chris Evans Workout routine Exposed
With the release of Captain America on the big screens it's sparked up the question of, how did Chris Evans get so jacked? He was already pretty ripped before he was cast to play the role but he put on some serious muscle mass in quite a short period of time. If you have ever read any of the Captain America comics you will have noticed how muscly Captain America is portrayed and Chris Evans has replicated it very well.
Chris Evans' Workout consisted of a heavy split routine. For those that don't know what a split routine is, it is when you train one body part each day of the week and then rinse and repeat. It's what I recommend in most of my posts. I wouldn't say this workout is limited by any gym experience, it is intensive however and if your just starting it may be worth seeking more basic training before attempting this.
Chris Evans workout routine
This routine is intended to build up some serious muscle mass, as well as conducting all the exercises in the routine rigorously you also need a controlled diet. It's worth checking out my post on high calorie foods  to find some ideas for bulking food. When Chris Evans was working out he said he didn't like diets, he just ate as much as possible, which really shows in his results. When it comes to the captain america workout any supplementation is going to help. It's worth taking the usual protein shakes before and after the workout (I recommend Optimum Nutritions Whey Protein ) as well as investing in some stimulants like NO-xplode.
Without further edue lets get onto the workout.
Day 1 – Captain America Workout
Starting off the week with a Leg workout involving plenty of compound exercises;
Leg Press
Leg Extension
Leg Curl
Squats
Lunges
Calf Raises
Do each of these exercises for 4 sets with 8 repetitions in each. Keep the rest time to a maximum of 90 seconds. Walking at the end of this should not be pleasant.
Day 2 – Chris Evans Workout
 This second day is going to be a shoulder session;
Military Press
Dumbell Press
Lateral raises
Shrugs
Seated Lateral Raise
Seated Barbel Press
Again 4 set of each with a minimum of 8 repetitions.
Day 3 -Chris Evans Workout
Day 3 is going to be a Back day and contains another set of compound movements which aids muscle hypertrophy.
Pull ups
Deadlifts
Seated row
Straight leg deadlift
Pulldown
Bent over row
Lateral Flys
This is an exceptionally intensive day, again aim for 4 set of 8 reps. Pushing yourself to failure on the deadlifts is a must.
Day 4 – Captain America Workout
This can be a rest day if you are feeling a little sore and I would recommend it. However if you are feeling good lets get working our chest.
Flat Bench Barbell Press
Incline Bench Berbell Press
Flat bench Dumbbell Press
Decline Dumbbell Press
Incline Dumbell Flys
Peck Deck
Pullovers
Again an intensive day with 7 exercises, 4 sets each of 8 repetitions.
Day 5 – Chris Evans Workout
Today we are going to purely focus on the guns.
Dumbbell curls
Tricep pushdowns
Barbell Curls
Preacher Curls
Skull Crushers
Hammer Curls
Again every
exercise
for 4 sets and with 8 reps in each.
Depending on if you have a rest day half way through the exercise you will now have either 1 or 2 days off. You then rinse and repeat and expect to see insane results within a short period of time.
So in conclusion the
Chris Evans Workout
is an intensive
mass building
routine. There are plenty of compound exercises put in throughout the week. This makes sure every muscle is constantly being worked out. 2 rest days are in there just to make sure you don't become a complete mess, it should be intensive enough with them. If you think you could push yourself more, have only one rest day.
Disclaimer: This workout is not associated with Chris Evans it's simply a workout that will give you the results you saw in Captain America.