In his latest two films, Bronson and Warrior Tom Hardy has shown he can put on a good amount of mass. In Bronson he put on lots of weight and played the role of a brawler, and in Warrior a MMA underdog. His workout routine differs from all plans i've seen before and i've been going it for 3 weeks and it's given me great lean gains. Tom managed to bulk up to 18 stone for Bronson, pretty impressive.
Tom Hardy Warrior Workout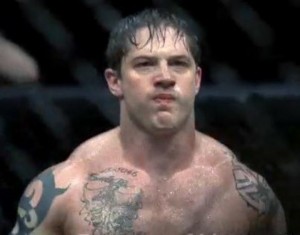 In the film Tom has traps that make him look very scary and you presume are the result of shrugging a small elephant for days on end.  In the Tom Hardy Warrior workout he did not lift excessively heavy. In actual fact what he did do was lift often. In training he would exercise on average 3-4 times a day. Obviously he couldn't lift really heavy as your body would just not be able to recover.
When looking at the fundamentals it's quite easy to see how lifting often can stimulate muscle growth. The body will adapt to changes placed on it. If you take on the Tom hardy warrior workout and lift 4 times a day, putting repeated stress and muscle stimulation, the bodies natural response is to increase muscle mass.
All of Tom's workouts were done in a no rest routine of three exercises.
Tom Hardy Warrior Workout Routine 1
His first routine involves working the chest and shoulders. The set ranges from 10 reps to 7 reps and then a final set of 5 reps. The exercises are ones you can easily do at home, with the first being a set of press ups, standard width. The next exercise is a lateral shoulder fly. Using light weight dumbbells start at your hips and then with move them vertically to your shoulders. The final exercise is a dip, this can be done on the edge of a chair. Put your hands by your side while sitting on the chair straighten your legs and then move your bum off the chair and lower yourself until you elbows are at 90 degrees then push yourself back up.
A very simple routine and remember in the tom hardy warrior workout you have now breaks between each set, keep it intense.
Tom Hardy Warrior Workout Routine 2
His second routine involves working the core to give those chiselled abs. The rep ranges and rules still apple from routine 1. The first exercise is a sit up with straight legs. Moving onto a leg raise. Keeping your shoulders on the ground and your legs straight raise your legs to your chest in a controlled manner. The final ab exercise is a crunch with your feet 6 inches from the floor.
Tom Hardy Warrior Routine 3
In his final routine he worked his biceps and forearms, again in the same fashion as in routine's 1 and 2. Starting with a basic set of bicep curls with the elbow fixed at your side. Moving onto a forearm exercise in which you place your forearm on a bench and have your wrist at the end and you flex your wrist while holding a dumb bell to exercise the forearm. Finally he finished of the exercise with a set of preacher curls.
In the Tom hardy warrior workout it's important to remember tom was also doing fighting training as well. It's easy to notice there are no legs workouts mentioned here, he worked his legs primarily while performing his fighting training.