As you may know, if your trying to lose weight or gain some muscle it's best you avoid alcohol. It's not going to be beneficial to you in anyway, however that's not why so many people drink is it. Alcohol is an amazing social lubricant, I assume huge companies have been formed, ideas conceived all while having a tipple. So I am not here to say don't drink it that is your decision I am just willing to give your some advice so you can chose the healthiest alcoholic drinks.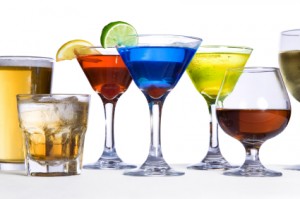 I'm all into people taking their health seriously but not all of us are trying to become the next Arnold, or Jamie Eason. There are times when you have to drink, it's something unavoidable. For instance I have had a few friends 21st birthdays recently and I can quite say they have been some of the best weekends of my life. The quantity of alcohol consumed was mind boggling however memories have been made that no amount of booze will ever be able to erase. So alcohol is not always a bad thing in my mind and you can still enjoy it while getting fit and healthy, first of all I want to look at some common myths:
Healthiest alcoholic Drinks myths
I have a history of enjoying a fine ale both light and dark as well as a stout such as Guinness. First of all beer, especially Guinness is considered to be highly calorific. Discussions would often include, 'oh a Guinness is like a roast dinner in a glass', 'doesn't it have around 500 calories in it?' this is a complete myth. Guinness is a filling beer yes, however it does not contain a huge amount of calories.
In alcoholic drinks calories either come from the carbohydrate content or the alcohol content. Alcohol is quite an effective fuel, and can even be used to run an internal combustion engine. This attributes is with having quite a lot of calories, making more alcoholic drinks higher in calories. This is however evened out by having strong liquors in much smaller quantities than a beer, for obvious reasons. Guinness in fact contains 170kcal's, at 4.1% which gives 16.5g of alcohol. The energy in 1 gram of alcohol is 7 kcal's. The rest of the kcals in Guinness comes from carbohydrate and protein believe it or not.
Wine is also considered to be very calorific and in all honesty, i've always said it's high in calories but in further investigation it's not always. Wine can be harvested at different times of the year, yielding a sweet, mild and dry vintage. Sugar in the grapes is fermented and converted into alcohol, so initially the sugar content is high. When winemakers decide to stop fermenting will determine the sugar content of the wine according to how much residual sugar is left. Common guidelines go by DRY wines may have little residual sugar (0.1 to 0.2 percent), SEMISWEET wines usually range from 1 to 3 percent, and LATE HARVEST wines may range as high as 28 to 30 percent sugar.
So as a summary the healthiest alcoholic wine is a DRY one.
Top 5 Healthiest Alcoholic Drinks
When compiling this list I have taken into account many more micronutrient contributions. Alcohol is a standard measure with the UK having a system of units. The 5 healthiest alcoholic drinks listed contain no more than 3 units.
Gin and Tonic – A personal favourite of mine, this has been placed at number one assuming that you have a diet tonic. Tonic contains quinine which is a natural white crystallinealkaloid having antipyretic (fever-reducing), antimalarial,analgesic (painkilling), anti-inflammatory properties and gives the tonic a bitter taste. Gin is also a very pure alcohol, with importantly no added sugar.
Vodka and Carbonated water with lemon/lime – Vodka is a very pure alcohol distilled from any fermented substance. Carbonated water is calorie absent with the lemon and lime, providing the taste. There is almost no micronutrient contribution and this is just a plain low calorie drink.
Dry Champagne – Any excuse to pop open a glass of the bubbly. Champagne contains very low sugars and has one of the lowest calorie counts of any equivalent drink (per 100ml). The carbonation will also aid you feeling drunk, this study here, showed 14/21 people absorbed alcohol at a faster rate when the drink was carbonated, why? Carbonated beverages stimulate the opening of the pyloric valve which allows the alcohol to be absorbed by the small intestine more quickly than it would without the carbonation. So take it easy….
Bloody Mary – A bloody mary is a completely different type of drink, consisting of worcester sauce, tabasco, vodka, tomato juice and celery sticks and more. What you need to watch out for is the salt content, this can often be quite high so just make sure whoever makes it adds none. There are some nice thermogenic ingredients in this drink from the tabasco and worcester sauce, along with nutrients from the tomato juice. All round a

healthy tasty alcoholic drink

.
Dry White Wine/Dark Ale – Coming in drawn on 5th is the dry wine and dark ale. Why? Well the wine contains antioxidants and low in sugar making it a good healthy choice. The dark ale also contains more nutrients than light ale, which gives it a slight advantage.
Drinks to avoid
I recommend staying away from any manufactured drink such as alcoholic premixed drinks often referred to as alcopops. These are high in sugar, which is 1) Bad for you and 2) Hides the taste of alcohol causing binge drinking to occur much more easily.
Any thoughts or drink of your own you think should be added please leave a comment below.
Cheers, Will.
None found.