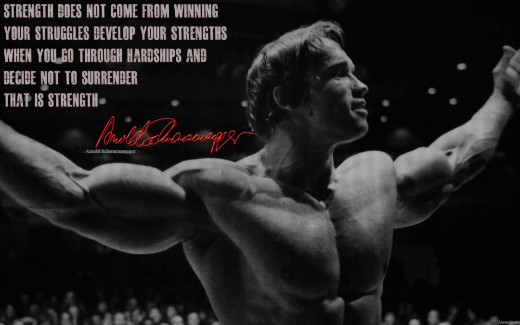 These bodybuilding quotes are powerful, they will help you find strength when you need it most. This is merely a collection of some of my favourite ones, if you have any of your own not listed here please leave a comment and I will add it.
Bodybuilding Quotes – Best of
"The last three or four reps is what makes the muscle grow. This area of pain divides the champion from someone else who is not a champion. That's what most people lack, having the guts to go on and just say they'll go through the pain no matter what happens." – Arnold Schwarzenegger
"Intensity builds immensity" – Kevin Levrone
"Go hard or go home" – Anonymous
"You're gonna have to go through hell, worse than any nightmare you've ever dreamed. But when it's over, I know you'll be the one standing. You know what you have to do. DO IT!" -Duke (Tony Burton), Rocky IV
"The pain you feel today will be the strength you feel tomorrow" – Anonymous
"The greatest barrier to success is the fear of failure" – Anonymous
"Lift hard – Die Huge" – Anonymous
"I'll do what he won't today, so i'll do what he can't tomorrow" – Unknown
"Strength does not come from winning. Your struggles develop your strengths. When you go through hardships and decide not to surrender, that is strength."- Arnold Schwarzenegger
"Everybody pities the weak; jealousy, you have to earn." – Arnold Schwarzenegger
"If I Have To Die Tonight , If This Weight Is Going To Kill Me Tonight, SO BE IT! Im Dying Where I Wanna Be…" – Kai Greene
"How Intense Could You Be? Can You Be Intense Enough To Pick This 500Lbs off the Floor..Are You Intense Enough To Pick This 700Lbs Up?! Squat down to the floor and stand back up? So what if you eyes are bloodshot!…. So what if your bones feel like snapping! WHAT ARE YOU GONNA DO!"  – Kai Greene
Down the road, in a gym far away
A young man was heard to say
"No matter what I do, my legs won't grow!"
He tried leg extensions, leg curls, leg presses too
Trying to cheat, these sissy workouts he'd do!
From the corner of the gym where the big guys train
Through a cloud of chalk and the midst of pain
Where the big iron rides high, and threatens lives
Where the noise is made with big forty-fives
A deep voice bellowed as he wrapped his knees
A very big man with legs like trees
Laughing as he snatched another plate from the stack
Chalked his hands and monstrous back
Said, "Boy, stop lying and don't say you've forgotten!
Trouble with you is you ain't been SQUATTIN'!" – Jeff "MADDOG" Madden
"Beware the battle cry of the gym pussy: 'I dont want to be big, I just want to get toned!'" – Big Red
"Somebody may beat me, but they are going to have to bleed to do it." – Anonymous
"My goal when I come in here everyday is to make sure that if someone beats me – its not because they outworked me!" – Layne Norton, Natural Pro.
"7 months straight. No stopping, no maintenance weeks, no cheat meals. Why? Because if someone beat me, I didn't want to look back at any cheat meals and ask "what if". I did what it took every single day, and THAT is why I looked the way I did. You either want it or you don't. Just so you know, there wasn't a day that went by in the last 8-10 weeks of that prep where I didn't want just ONE extra yogurt, or 5 less intervals of cardio. But, I was not going to be outworked! I was NOT going to be denied! And you know what? It was all worth it" -Tommy Jeffers, Natural Pro
"I don't eat for taste, I eat for function." -Jay Cutler
"To anyone that ever tells you that you can't do something – tell them to go fuck themselves." – Guy Cisterino
" You cant over train, you can only under eat" – Trey Brewer
"Each workout is like a brick in a building, and every time you go in there and do a half-ass workout, you're not laying a brick down. Somebody else is." – Dorian Yates
"Obsessed is a word the lazy use to describe the dedicated." – Unknown
"I believe that when the body is strong, the mind thinks strong thoughts.
Time spent away from the Iron makes my mind degenerate.
I wallow in a thick depression. My body shuts down my mind.
The Iron is the best antidepressant I have ever found.
There is no better way to fight weakness than with strength.
Once the mind and body have been awakened to their true potential, it's
impossible to turn back.
The Iron never lies to you. You can walk outside and listen to all kinds of talk, get
told that you're a god or a total bastard.
The Iron will always kick you the real deal.
The Iron is the great reference point, the all-knowing perspective giver.
Always there like a beacon in the pitch black.
I have found the Iron to be my greatest friend.
It never freaks out on me, never runs.
Friends may come and go.
But two hundred pounds is always two hundred pounds." – Henry Rollins
"People used to ask me what I did to stay so motivated.. and I would always laugh. Motivated? I'm utterly f'ing obsessed. Motivation would be a step DOWN." – Tom Prince
"The pump -one of the better highs in life, you dont need to shoot up for it, you dont need to snort it, all you gotta do is sweat for it" – Greg Plitt
Bodybuilding Quotes
I hope these bodybuilding quotes will get your fired up and ensure every sacrifice you have made and all the effort you put into your training is worth it!
Remember if you have any you think should be added leave a comment and I will put it in. Cheers!
None found.